Visiting Students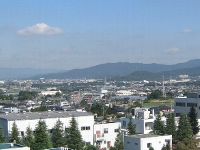 We accept candidates who would like to study, do research, or take classes in the special field as Special Research Students or Special Audit Students (both are called "Visiting Students") in Toyohashi University of Technology (TUT); as far as the fields of study fit to our academic field, after the screening of application.
Visiting students can do their research or study in TUT while they are continuing their study in home university.
There are two categories of visiting students programs; Special Audit Students take the classes of TUT to get credits, and Special Research Students mainly do their research. 
1. Categories of admission
A) Special Audit Student:
Visiting students who wish to take the classes of TUT and wish to obtain credits (Both undergraduate level and graduate level).
B) Special Research Student:
Visiting students who wish to do their research in TUT (Graduate level).
2. Eligibility
A) Undergraduate level students:
Those who graduated from high school, completed regular 12 years education, or recognized as the equal, and who are permitted by their home universities.
B) Graduate level students:
Those who graduated from universities or recognized as the equal, and who are permitted by their home universities.
*In either case, if you wish to take classes taught in Japanese, or take research guidance in Japanese, you need to have Japanese language proficiency level equivalent to 280 points on "Japanese as a Foreign Language," Examination for Japanese University Admission for International Students (EJU). We recommend students to have 1st class on Japanese Language Proficiency Test (JLPT N-1).
If you wish to take classes taught in English, or take research guidances in English, you need to have enough English communication skills (TOEIC: 590, TOEFL(iBT): 61, TOEFL(PBT): 500, IELTS: 5.5 or above level is recommended.)
3. Month of enrollment
Beginning of April or October (Beginning of each semester)
*Special Research Student may start their research from other months.
4. Fees to enroll
A) Application fee and Admission fee: Exempted
B) Tuition fee
| | |
| --- | --- |
| Special Audit Student | 14,800 yen/credit |
| Special Research Student | 178,200 yen/ semester (29,700 yen/month) |
C) How to pay
Special Audit Student:
Upon the admission, please pay for all tuition of classes which are admitted to take.
Special Research Student:
Please pay at the beginning of your research period.
The amount may be divided by the semester
(From April to September, October to March).
D) Notes
Those fees are not refundable.
You will be responsible for other costs like daily expenses, transportation fees and so on.
E) Exchange Students from Partner universities
Exchange students coming from our partner universities are exempted from payment of tuition fee, too (the number of students exempted from the payment is limited by the exchange agreements).
*List of universities with exchange agreements: [Japanese] [English]
5. Application documents
Application Form for Short-term Program [download]
Personal Information Sheet for Short-term Program [download]
List of Preferred Courses (for Special Audit Student only) [download]
Certificate of enrolment in your host university (Originals or Certified copies)
Transcripts or certificate of your score (Originals or Certified copies)
Proof of your English/Japanese language skill
*This does not have to be an official certificate.
Document that explains your current research theme
*Briefly explanation of academic thesis, bachelor's report plan etc.
Recommendation letter from your university
Photo-copy of your passport
Application form for Student ID Card [download]
Pledge [download]
Application form for International House [download]
Documents for your VISA application
*Please read
this page
carefully and download the application form.
13. Application form for your Certificate of Eligibility
14. Face photograph data (JPG, 50kb or less)
15. Financial certificate
Notes:
All documents should be typed in Japanese or in English on A4 size paper.
If the certificate is issued in other language, English or Japanese translation must be attached.
All submitted documents will not be returned.
6. Application deadline
4 months prior to the month you wish to enter
(If you wish to enter in April, the deadline is in the end of November the year before. If enter in October, the deadline is in the end of May.)
※Applicants must be nominated by affiliated university for visiting students one month prior the application deadline above.
(The nomination is made by sending an email of the information of applicants; name, Department, Course level, preferred Category of admission, and preferred period of study in TUT, from affiliated university to Educational Affairs Division in TUT.)
Address where the application documents should be sent to
Educational Affairs Division
Toyohashi University Technology
1-1 Hibarigaoka, Tempaku, Toyohashi, Aichi, 441-8580, JAPAN
Contact Email
kikcho@office
*Please append ".tut.ac.jp" in the end of the address above.
*Please send all your application documents by Email before sending by postal mail.
7. Admission of students
After the notification of acceptance based on the results of the selection process by the university's selection committee, students will be admitted to the university upon completion of the required procedures during the first month of the planned study/research period.
8. Notes
Special Audit Students need to take classes for 10 hours/week in order to receive Student visa.
Canditates need to write names of three faculty members of TUT on the application, as Special Audit Students need contact faculty members and Special Research Students need supervisors in TUT.
Only the visiting students from our partner universities may apply for International House if there is any vacancy. (Visiting international students coming from those universities without Student Exchange Agreement between TUT need to find their accommodation outside the campus by themselves.)
Special Research Students can audit classes of TUT for their research needs, but cannot obtain credits.
TUT Transcripts
・We will send TUT transcripts to your home university by postal mail for credit transfer processing upon requests from your home university. Your home university needs to apply for them via email before applicants come to TUT. [Request Form]
・Please note that we will issue TUT transcripts as the following schedule.
Spring Semester: after October 1st
Fall Semester: after April 1st
This English guide is translated from Japanese originals for applicants. In the event of any discrepancy between the English version and Japanese version, the Japanese version shall prevail.
---
[Date Created]8 Oct 2010 / [Date Updated]25 Oct 2023