FAQ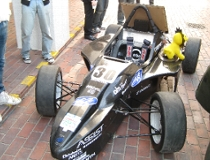 We know you have a lot of questions;
All procedures are complicated and confusing, and it is difficult to get information. You may not even know where Toyohashi is!
Here is the FAQ about varieties of procedures and daily life in Toyohashi University of Technology (TUT).
Click the questions you would like to know.
Frequently asked questions and answers:
1) OK, where is Toyohashi? I've never heard of it.

Toyohashi city is in the center region of Japan, Aichi prefecture which is the third biggest region in Japan, and where the core of Japanese industries as TOYOTA and other world's large companies set their headquarter offices.

Toyohashi is located in the south-eastern edge of this Aichi prefecture, where the center of both culture and industries of East Mikawa area.

So there is everything you'd expect to find in a city here, and also friendliness and Japanese tradition that the big cities often forgot.
2) Now I am interested in entering this university. So, what should I do?

Undergraduate : Click here to find your appropriate course. Undergraduate course is taught in Japanese.

Graduate : Find your supervisor and discuss your research plan and admission procedure. It is really important to communicate with your supervisor before applying. Please contact him/her by email with clear title and message about your wish.

Find your supervisor from Faculty Members List
Or check the details of the Departments of TUT
3) Do I need to speak Japanese? Is there English course in this university?

We have International Master's Degree Program and International Doctoral Degree Program.

In these International Programs, students are able to learn only in English, and they don't need to speak Japanese at all.

However, we strongly recommend international students to learn some basic Japanese because many Japanese people (most of them!) do not speak English...
We have free Japanese language lessons for all students and researchers as well as their spouses. You can learn Japanese language here.
4) How can I get scholarship? Is it difficult to be funded?

Japanese government scholarship: Apply for Japanese embassy in your country, or apply to us for the university recommendation. Remind that the application period is almost one year prior to the month you wish to enrol. It is very important to prepare enough for applying.

Private-fund scholarship: Self-funded international students are able to find private-fund scholarship in Japan. The common amount of monthly scholarship is from 50,000 yen to 120,000 yen for our postgraduate students.

We say that it is not easy to be funded. But more than 80 percent of our international students get some kind of scholarships. This means, if you prepare study-in-Japan well and have good grade, to get scholarship is not so difficult.
5) I really want Japanese government scholarship. What should I do before applying?

The most important thing is to have enough discussion with your supervisor on your research/study plan in Japan. Our faculty is very busy, so if you want to communicate with him/her, make sure to have enough time to do that. Otherwise, your supervisor cannot have big notion to welcome you.
6) How can I find my apartment? Am I eligible to apply for university dormitories?

There are student dormitories and International House where international students are able to stay. However, Research students cannot stay in the university accommodation.
There are several conditions for other international students. Please ask about university accommodation beforehand.

University provides the list of apartment to all students, and the university can be student's guarantor after their admission with the specific insurance.
7) I want to contact with students of my country. Can I do that?

We can let our students know your contact address. If you wish to have a contact to the students of your country, please tell so to us, and we can forward your email to the students.
8) I am wondering if I can get my visa to enter to Japan.

International Affairs Division will support you to get your visa to stay in Japan. We get your "Certificate of Eligibility" in Japan, and send it to you, so that you can get your visa easily.

However, this procedure takes about 1-2 months. Please make sure to have enough time to apply. Also, we are happy to support your visa extension, part-time permission, re-entry permit and other immigration matter in Japan.

9) How can I get to the university from the Airport? Am I alone?

All new international students will be supported by a student supporter for their first year, and (s)he will wait for you at the airport or at Toyohashi station (It depends on you).
Please tell your supporter about your transportation plan.
You can refer the transportation guide.
10) How much money should I bring to Japan?

Even if you receive scholarship in Japan, you will have to prepare at least;

Transportation fee from the airport to the university: about 3,000 yen
Food and drinking; 2,000 yen per day
Accommodation fee; depends on where you will stay
*Hotels around Toyohashi station: from 5,000 yen/single




Basic idea of monthly expenses: 70,000 - 80,000 yen

*It is not easy to exchange currency in Toyohashi. US Dollar or Euro can be exchanged at the local bank, but other currency maybe difficult, and the rate must be poor. We recommend you to exchange your currency at the airport in your country.
More enquiry and other questions
Student Affairs Division at TUT is happy to answer to any kinds of questions regarding to admission procedure, daily life, and supports you can get in our university.
Contact
Student Affairs Division
Toyohashi University of Technology
1-1 Hibarigaoka, Tempaku, Toyohashi
441-8580 JAPAN
E-mail
ryugaku@office
*Please append ".tut.jp" to the end of the address above.
---
[Date Created]1 Jan 2021 / [Date Updated]28 Nov 2023