Message from the President
Technology Open to the World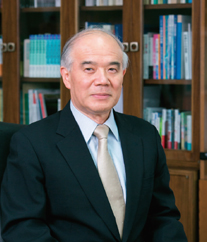 Toyohashi University of Technology will celebrate its 40th anniversary on October of this year. We thank the people of the local community for their generous support in helping start our university and their continuing support thereafter.
This university's mission has been to provide a first-class technological education and to conduct research for the further development and progress of technology. Along with producing many engineers and researchers among our graduates, we have striven to contribute positively to society through a range of activities such as industry-academia collaboration and social collaboration. Based on our strengths, unique characteristics and 40 years of experience we have decided upon the following new projects, which are currently planned as part of our National Universities' Third Medium-Term Objective/Medium-Term Plan under the theme of "Technology Open to the World.
1) Project regarding industry-academia collaboration and social collaboration
The Research Institute for Science and Technology Innovation will be created in order to promote effective interdisciplinary research, through an open application method, between research institutes and businesses, both domestic and overseas, The Institute will conduct research that will lead to social implementation, and strengthen industry-academia cooperation. Our university faculty and researchers from domestic and foreign research institutes that conduct high level research will cooperate in setting up cutting-edge joint research laboratories, conducting continuous research, and working to advance and diversify such research.
Further, collaboration with municipalities and businesses will be facilitated through the University-Community Partnership Promotion Center. As part of a project to contribute to the local community, programs will be created for the promotion of local culture, the development of regional industry.and to provide practical further education for working people,
2) Project regarding enrichment of student support
Share-house style student housing will be provided where foreign students and Japanese students, who are motivated to work in global society, live together so that they may cultivate international awareness, social skills, cultural manners, and leadership. With the support of a housemaster, resident assistants, and faculty, a borderless zone of cross cultural mutual understanding will be created. To enrich student health and wellbeing we will provide dedicated facilities for extracurricular activities as well as an inexpensive (¥200) and nutritious Mezamashi gohan or .Rise and Shine Breakfast.
3) Promoting priority projects for functional enhancement
We actively participated in various programs for university reform promoted by the Ministry of Education, Culture, Sports, Science and Technology, and were selected to participate in the 2014 Top Global University Project. As part of our vision to realize a global, multicultural campus, we will endeavor to assist the students who join our new Global Technology Architect program in honing advanced technical capabilities based on a firm scientific grounding in order to prepare them to tackle technological challenges worldwide.
Further, in 2012 and 2013, we were selected for the National University Reform Plan , the Program for Leading Graduate Schools and the Program for Promoting the Enhancement of Research Universities. All of these projects are active and ongoing.

The universities of this country, particularly national universities, are facing multiple challenges, such as the declining birth rate and basic budget cuts, to name but a few. We will stay true to the mission that was decided at our founding, strive to bring vitality to the region and aim to be a world-class engineering university.
Takashi Onishi
President
Toyohashi University of Technology