Message from the President
Aiming for World-Leading Technological Science
―The Mission of Toyohashi University of Technology―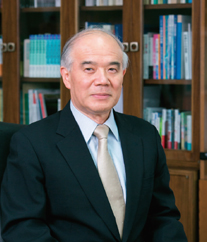 Toyohashi University of Technology (TUT) was founded with the mission to conduct research and education in technological science, which is a field for developing new technologies through scientific research that supports technology.
Based on this mission, TUT targets graduates from domestic and foreign technical colleges (Kosen) and as well as high schools, for new its enrollment. With its graduate school emphasis, the university conducts research in technological science, fostering practical, creative and leading engineers and researchers as it forges a path toward a new era. Furthermore, TUT strives to respect social diversity and works to enhance collaboration with the local community. Through these efforts, TUT strives to be a top-class engineering university that is open to the world.
In order to further develop such activities, since our founding, we have established five objectives: "Realize a multicultural/global campus"; "Foster innovative human resources through technological science"; "Enhance our research capabilities centered on interdisciplinary research"; "Create knowledge and technologies that contribute to the formation of a safe and secure society"; and "Promote continuity and mobility of researchers". In order to achieve these objectives, we are enhancing our cooperation with technical colleges, such as establishing collaborative education programs, as a top priority implementation item strengthening TUT's functions. We also promote joint industry-academic initiatives as well as social collaborative research such as implementation and proposals to society through the Research Institute for Technological Science and Innovation. In addition to the five specialized fields of mechanical engineering, electrical and electronic information engineering, computer science and engineering, applied chemistry and life sciences and architecture and civil engineering, we have expanded our tailor-made type curricula to all subjects. In this way, we can focus on educating students who can tackle issues and the pursuit of truth by spanning multiple disciplines. In particular, we are putting our efforts into the field of education field in particular.
As a university that participates in the Top Global University Project, we are seeing steady results from the efforts we have put into internationalization, with the proportion of international students enrolled at TUT now significantly exceeding 13% of all students. This year too, we will accelerate our internationalization by accepting international students and promoting study overseas through the enrichment of various programs such as double degree and joint degree.

I would like to thank all of you who have continued to support TUT from our founding to the present day, both from both inside and outside the university. While maintaining our community roots, we aim to make great steps forward in the years ahead to become the university that creates human resources people who can be active in various places around the world and produce practical knowledge. Thank you for your continued cooperation.

Takashi Onishi
President
Toyohashi University of Technology