Accommodation
1. University's Accommodation

University accommodations are;
International House
Student Dormitory A, B, C, D, E, and F
TUT Global House (for GAC students)
International house with 40 single rooms and 10 family/couple rooms are designed for newly arrived international students, mainly for Japanese government (MEXT) scholarship students, short-term students from the partner universities.
Both Japanese students and international students can stay in the student dormitory A-F, and there are 595 single rooms in total. The application period for the student dormitory is in midsummer to fall every year.
Since capacities of both accommodations are limited, not all students are able to stay there. Especially, Self-financing research students cannot apply for the university accommodations.
Residents of International house must pay deposit and first month rent before move-in.
Both International House and Student Dormitories are well furnished; basically there are bed, desk, chair, shelf, drawer, and air-conditioner. Some rooms have small kitchen, toilet, and shower or bath-tab.
Cost to stay in the university accommodation:
Monthly rent
Common service fee
Monthly utility charge
Deposit
International house
5,900 yen
500 yen
Actual expenes
10,000-20,000 yen
*30,000 yen
Student dormitory
A, B, C, D
7,000 yen
1,000 yen
20,000 yen
Student dormitory E
11,000 yen
Student dormitory F
20,000 yen
*Deposit money for the couple/family room is 40,000 yen.
International House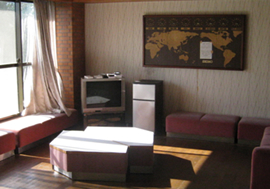 International house is a student dormitory for newly arrived international students, mainly for Japanese government (MEXT) scholarship students and short-term students from partner universities. Its maximum length of residence is 1 year.
Two Japanese students are also staying this dormitory as tutors. They support residents even at the weekends and at night.
In the lobby, mixed students parties with Japanese and international students are held frequently.
Single room
Couple room
Family room
40
6
8
Total 54 rooms for Students
Student Dormitory
Student dormitories are common housings for both Japanese and international students.
The period of stay in the student dormitory is 1 year (maximum of 2 years). Residents are required to have Japanese language skill for their daily life. All rooms are for singles.
| | | |
| --- | --- | --- |
| Dormitory A, B, C, D | 400 rooms | Only for undergraduate male students |
| Dormitory E | 99 rooms | For male graduate students |
| Dormitory F | 96 rooms | For female students, male graduate students |
TUT Global House
New global-oriented accommodation
Unique shared-house style accommodation for international and Japanese students enrolled in the Global Technology Architects Course
Students obtain global communication capability through the everyday life experienced there
International students can communicate in English while they learn Japanese
2. Renting a private apartment
Since the dormitories in the university are limited, most international students live in private-apartment near the university.
*Especially for those self-financed international students, there is high possibility that our university cannot provide any university's accommodation. They must make sure to find a room for first few days beforehand, (e.g. book a hotel) and find a room in Japan asking to agency or so.
Student Affairs Division renews the list of private apartment around the university in late October.
List of private apartment around the campus [PDF, (Oct. 2021) for reference only]
3. Public apartment
Public apartments have relatively low rents, but only a few rooms are available, and they are located a bit far from the university. Besides, you should have your family in Japan when you apply for it.
---
[Date Created]8 Oct 2010 / [Date Updated]7 Sep 2022