Higashi Mikawa Exchange Event "SDGs Sports" Mölkky on Toyohashi International Festival 2023
Higashi Mikawa Exchange Event "SDGs Sports" Mölkky on Toyohashi International Festival 2023
Past Events | November 16, 2023
On Sunday, November 12, an SDGs exchange event was held at emCAMPUS, Toyohashi Machinaka Plaza in cooperation with the Toyohashi University of Technology's Carbon Neutral Research Group, the International Exchange Club CALL, the SDGs Promotion Headquarters and the Toyohashi International Festival 2023 Executive Committee.
We enjoyed "SDGs Mölkky", a competition invented by TUT students inspired by the Finnish throwing sport "Mölkky".
In the morning session, international association teams from five Higashi Mikawa cities (Toyohashi, Toyokawa, Shinshiro, Gamagori, and Tahara) and three universities (Aichi University, Toyohashi Sozo University, and TUT) competed with "SDGs Mölkky".
A total of 37 participants from 11 countries and regions (Brazil, Indonesia, China, Taiwan, the United States, Pakistan, Nepal, the Philippines, Peru, Vietnam, and Japan), ranging from children to adults living in the Higashimikawa area.
In the afternoon session, it was divided into two parts; one was a game for exchange with general participants and the other was a game that children could casually experience, providing an opportunity for many people to interact with each other through the SDGs.
Students from Aichi Prefectural Toyohashi Nishi Senior High School also assisted the session all day as volunteers.
It was a great day when the community expanded through the event.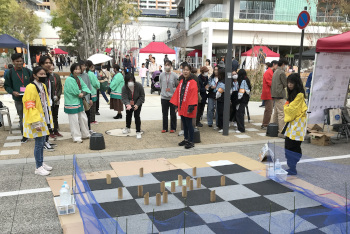 The morning session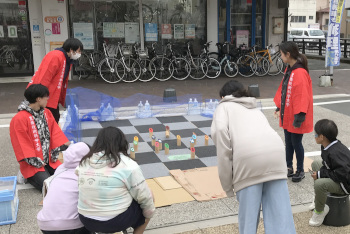 The afternoon session