Student-Centered Community Engagement:SDGs-International Exchange Activities
Student-Centered Community Engagement:SDGs-International Exchange Activities
Past Events | March 2, 2023
The "Multinational Sports Event: SDGs Newcastle Cup (hosted by Shinshiro International Exchange Association)" was held under the support of Toyohashi University of Technology's student group "Carbon Neutral Study Group" at the Shinshiro City Seibu Community Center (Chisato-kan) on Saturday, February 25.
Eight teams played "SDGs sports" created by students, inspired by the Finnish throwing sport "Molkky". Around 35 participants, from children to adults, including families originally come from Brazil, the Philippines, and Peru, deepened their cooperation and friendship. Although the participants were the first time to meet each other, the matches were always very heated. During the free time between games, participants played games using SDG cards designed for children (cards that express the 17 goals in sentences that are easy for children to understand) arranged by the Carbon Neutral Study Group. They also experienced Boccia, adopted as an official sport for the Paralympics.
After the game, Ms. Kiho Momiyama (2nd-year undergraduate student), representative of the Carbon Neutral Study Group, gave a message to the participants, "I hope that this event makes you feel familiar with the SDGs and encourages you to take action, even small toward achieving the goals."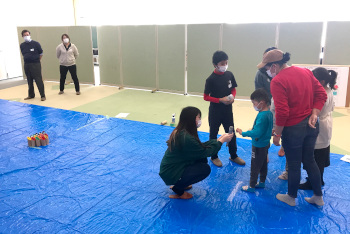 Picking SDG cards and remembering the SDG goals with all team members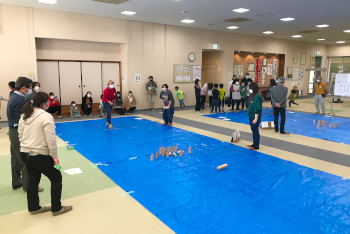 Playing SDGs Sport at the SDGs Newcastle Cup