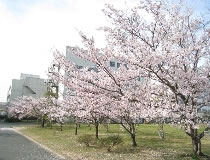 Those Master's graduates enrolled in Master's programme given in English, Graduate School of Engineering at Toyohashi University of Technology in October 2010, and those graduating the course in September 2012 may apply for In-school admission for the Doctoral Program Given in English, Graduate School of Engineering at Toyohashi University of Technology.

*If you are interested in General doctoral course (entrance in April or October), please click here [Japanese].
**If you are not current Toyohashi Tech student of English Master's Course, please check the information of English Doctoral Course (October Enrolment).
1. Number of students to be enrolled
Majors
Number of students to be enrolled
I. Mechanical Engineering
II. Electrical and Electronic Information Engineering
III. Computer Science and Engineering
IV. Environmental and Life Sciences
V. Architecture and Civil Engineering

Privately-financed students;
About 2- 3 students for each majors,
including In-School admission students
2. Application procedure
(1) Submission period
From May 28, 2012 to June 1, 2012

(2) Application documents submitted to:
International Affairs Division
Toyohashi University of Technology
1-1 Hibarigaoka, Tempaku-cho, Toyohashi, 441-8580 Japan
3. Application documents
*Applications will not be considered if any of the documents are incomplete or incorrect.
a) Application for In-school admission (must be written in English. Photo must be attached.)[download]
b) Certificate of Academic Score (of Master's course)
c) Summary of Master's thesis (English, 2 A4-papers with about 500-600 words)
4. Method of selection
The selection will be carried out based on the documents.
5. Announcement of acceptance
The results of the selection will be notified to candidates by Email by the end of July 2012.
Those students need to extend their visa must do so with the Certificate of Passing the Examination.
6. Fees to Enrol
Tuition fee: 267,900 yen (Fall semester from October to March)
*Students of In-school admission do not have to pay the admission nor examination fee.
**In the case of a revision of the tuition fee, the new tuition fee will be applied from the time of the revision.

7. Month of Enrollment
October 2012

8. Notes
(1) Be sure to have a sufficient financial plan for the doctoral course period.
To apply private-fund scholarship in Japan, Japanese language skill will be required in most cases.

For inquiries, please contact
International Affairs Division
Toyohashi University of Technology
1-1 Hibarigaoka, Tempaku-cho, Toyohashi 441-8580 Japan
TEL: +81-532-44-6577
FAX: +81-532-44-6557
E-mail : ryugaku@office.tut.ac.jp