Wai Kian TAN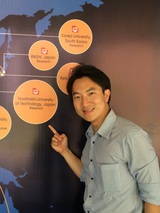 Affiliation
Institute of Liberal Arts and Science
Title
Assistant Professor
Fields of Research
Functional Materials Engineering, Ceramics Materials, Functional Oxide Materials
Degree
Doctor of Engineering (Toyohashi University of Technology)
Academic Societies
The Ceramic Society of Japan, The Inorganic Materials Society, The Japanese Sol-Gel Society
E-mail
tan@las
Please append ".tut.ac.jp" to the end of the address above.
Laboratory website URL
http://ion.ee.tut.ac.jp/
Researcher information URL(researchmap)
Researcher information
Research
As Toyohashi University of Technology is moving towards globalization, it is crucial to establish international networks not only in research but also between universities and industries. Therefore, TUT has established a TUT-USM (Universiti Sains Malaysia) collaboration center to propel research collaborations, global education and international internship program in order to expose our students and faculty members towards globalization. Recently, TUT has drawn international recognition and was invited to participate and be part of Malaysia Research Carnival organized by USM in June 2014 at Penang.
Theme1:Low-temperature formation of ZnO nanostructures and its photoelectrochemical applications
Overview
Low-temperature facile and controllable development of oxide nanostructures formation is crucial for device applications as the size and morphologies of the oxide are interdependent with its properties. Functional oxide nanostructures with specific semiconducting, photocatalytic, photovoltaic, and optical properties have unprecedented prospect in solving global issues such as global warming via efficient energy conversion or generation (solar cell, image), water purification and efficient energy transfer and light emission. By utilizing low-temperature formation of zinc oxide (ZnO) nano-architectures, fabrication cost could be reduced and flexible devices are envisaged utilizing substrates with low thermal stability such as polymers.
Keywords
: functional oxide nano-materials, nano-materials synthesis, photocatalytic properties, dye-sensitized solar cells
---