Hideyuki Uehara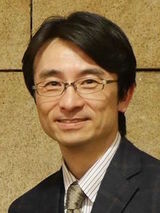 Affiliation
Department of Electrical and Electronic Information Engineering
Title
Professor / Presidential Advisor (Education Strategic Planning)
Fields of Research
Wireless Access Protocol / Multi-hop Communications / Sensor and Ad Hoc Networks
Degree
Ph.D. (Keio University)
Academic Societies
IEICE / IPSJ / IEEE
E-mail
uehara@
Please append "tut.jp" to the end of the address above.
Laboratory website URL
http://www.comm.ee.tut.ac.jp/
Research
Wireless systems hide limitless possibilities that can enrich our lives, as said by the father of wireless communications, Guglielmo Marconi, "It is dangerous to put limits on wireless." We are aiming to realize new communication networks through wireless access and multi-hop communications, based on communications theory, network architecture and signal processing. Specifically, we undertake research on access control for effectively sharing limited radio resources, network control for cooperative connections and signal processing for high quality communications, for distributed autonomous systems such as sensor and ad hoc networks.
Theme1:Wireless Networks
Overview
In wireless networks, especially distributed autonomous networks such as sensor and ad hoc networks, it is crucial to keep connectivity high for delivering more data with low latency, and also to save energy for longer time operation. We are aiming to design and build medium access control and topology control protocols so as to utilize and manage wireless resources efficiently for the use of the emerging IoT or trillion sensors universe.
Keywords
MAC protocol, topology control, multi-hop communications, energy efficiency
Theme2:Sensing Systems
Overview
A sensor which converts physical quantities to electrical signals can be a sensing system and create new services when a lot of sensors are assembling together and connecting each other, besides having processing and communication functions. We are aiming to develop new sensing systems exploiting radio wave propagation characteristics such as localization for mobile objects including sensors and persons, and also for resonator's location estimation in wireless multi-hop power transfer systems.
Keywords
mobility sensing, radio propagation characteristics, localization
Theme3:Full Duplex Multi-hop Communications
Overview
Communication traffic is rapidly growing as widely spreading wireless tools and sensors, which causes wireless resources a critical shortage. In-band full duplex communications can double the capacity in principle than half duplex communications used in current wireless LAN etc., however it must suppress self-interference. In addition, no protocols have been designed for multi-hop communications. We are aiming to develop a self-interference canceler and access protocol for in-band full duplex multi-hop communication systems that can efficiently utilize wireless resources by spatial-temporal control.
Keywords
in-band full duplex communications, self-interference canceler, multi-hop communications, spatial-temporal control
Title of class
Communication Engineering I / Communication Engineering II / Information Networks / Advanced Information and Communication Systems
---