Michiteru Kitazaki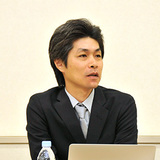 Affiliation
Department of Computer Science and Engineering
Title
Professor
Fields of Research
Perceptual Psychology / Cognitive Neuroscience / Virtual Reality
Degree
PhD (University of Tokyo)
Academic Societies
Japanese Psychological Association / Virtual Relity Society of Japan / Vision Society of Japan / Japanese Psychonomic Society / Vision Sciences Society
E-mail
mich@cs
Please append ".tut.ac.jp" to the end of the address above.
Laboratory website URL
http://real.cs.tut.ac.jp/
Researcher information URL
Researcher information
Research
We are exploring to understand scientifically how we perceive the world/environment and communicate with others. Embodied perception is a main perspective in our research. Our perceptual process and communication are crucially connected to our body physically and psychologically. We are investigating three research themes based on this perspective.
Science for Mobile Observers
Science for Perceptual Reality
Science for Implicit Social Cognition
Theme1:Science for Mobile Observer
Overview
To understand perception for mobile observers, we are investigating self-motion perception, 3-D objects, scene and human-body recognition across viewpoints with psychophysical experiments. To know interaction of perception and action, we are measuring motor behavior and perception during action such as walking and driving a car. Parts of driving study are cooperative studies with a motor company.
Selected publications and works
Kitazaki, M. (2013), Effects of retinal position on visuo-motor adaptation of visual stability in a virtual environment, i-Perception, 4(4), 242?252.
Tani, Y., Araki, K., Nagai, T., Koida, K., Nakauchi, S. and Kitazaki, M. (2013), Enhancement of glossiness perception by retinal-image motion: additional effect of head-yoked motion parallax, PLOS ONE, 8(1): e54549. Kawahara, J., Yanase, K., and Kitazaki, M. (2012), Attentional capture by the onset and offset of motion signals outside the spatial focus of attention, Journal of Vision, 12(12): 10.
Kitazaki, M. and Kimura, T. (2010), Effects of long-term adaptation to sway-yoked visual motion and galvanic vestibular stimulation on visual and vestibular control of posture, Presence: Teleoperators and Virtual Environments, 19(6), 544-556.
Kitazaki, M. and Sato, T. (2003), Attentional modulation of self-motion perception, Perception, 32, 475-484.

Keywords
self-motion, optic flow, galvanic vestibular stimulation, perception and action, driving simulator
Theme2:Science for Perceptual Reality
Overview
To explore what is realty, we are investigating material perception, perceptual aesthetics, lightness perception, self-motion perception, and human-body perception in virtual-realty environments. Cross-modal studies such as vision-vestibular interaction on postural control and face-voice interaction on emotions are included in the theme. We are developing a system to experience tele-presense of walking and a system for modifying human body experience.
Selected publications and works
Nagai, T., Matsushima, T., Koida, K., Tani, Y., Kitazaki, M., and Nakauchi, S. (2015), Temporal properties of material categorization and material rating: visual vs non-visual material features. Vision Research, 115B, 259-270.
Tani, Y. Nagai, T., Koida, K., Kitazaki, M. and Nakauchi, S. (2014), Experts and novices use the same factors, but differently: To evaluate pearl quality, PLOS ONE,9(1): e86400. doi:10.1371/journal.pone.0086400
Morita, T., Slaughter, V., Katayama, N., Kitazaki, M., Kakigi, R. and Itakura, S. (2012), Infant and adult perceptions of possible and impossible body movements: An eye-tracking study, Journal of Experimental Child Psychology,113,401-414.
Kitazaki, M., Kobiki, H., and Maloney, L. T. (2008), Effect of pictorial depth cues, binocular disparity cues and motion parallax depth cues on lightness perception in three-dimensional virtual scenes, PLoS ONE, 3(9): e3177. doi:10.1371/journal.pone.0003177.
Keywords
material perception, human body and movement, embodiment, virtual reality, cross-modal perception, perceptual development, human-robot interaction
Theme3:Science for Implicit Social Cognition
Overview
We interact with others naturally, and perceive the world and others based on social communications. The crucial factor for implicit social cognition is our body. We are investigating body perception, neurophysiology of empathy, equity, and moral. We found that the preverbal infants show sympathy for others in distress and that humans can empathize with humanoid robots.
Selected publications and works
Suzuki, Y., Galli, L., Ikeda, A., Itakura, S. and Kitazaki, M. (2015). Measuring empathy for human and robot hand pain using electroencephalography. Scientific Reports, 5:15924; doi: 10.1038/srep15924
Kanakogi, Y., Okumura, Y., Inoue, Y., Kitazaki, M., and Itakura, S. (2013), Rudimentary sympathy in preverbal infants: Preference for others in distress, PLOS ONE, 8(6): e65292.
Tamura, T., Gunji, A., Takeichi, H., Shigemasu, H., Inagaki, M., Kaga, M., and Kitazaki, M. (2012), Audio-vocal monitoring system revealed by mu-rhythm activity, Frontiers in Psychology, 3:225. doi:10.3389/fpsyg.2012.00225.
Keywords
Social cognition, empathy, sympathy, equity, moral
Title of class
Introducition in Cognitive Sciences / Human Information Processing / Advanced topics in cognitive neuroscience / Brain and neural system engineering
Others (Awards, Committees, Board members)
ACE2006 (International Conference on Advances in Computer Entertainment Technology 2006) Outstanding Paper Award(2006)
JVRC2009 (2009 Joint Virtual Reality Conference of EGVE - ICAT - EuroVR) Best Paper Award Honorable Mention(2009年)
Best paper award of Transactions of Virtual Reality Society of Japan (2006, 2010, 2014)
Best paper award of Japanese Journal of Psychonomic Science (2014)
Japan Psychological Association: 2005-now Representative
Virtual Reality Society of Japan: 2011-2014 Executive board member
SIG for Virtual-Reality Psychology: 2009-2011 SIG Chair
Senior Science and Technology Policy Fellow, Council for Science, Technology and Innovation, Cabinet Office, Government of Japan (2016)
---