Toyohashi International Festival 2022 Higashi Mikawa SDGs Exchange Event "SDGs Sports" -Throwing, Hitting, and Connecting for the SDGs Circle-
Toyohashi International Festival 2022 Higashi Mikawa SDGs Exchange Event "SDGs Sports" -Throwing, Hitting, and Connecting for the SDGs Circle-
Past Events | November 9, 2022
Toyohashi University of Technology's student group "Carbon Neutral Study Group" and "International Exchange Club: CALL", Head office for Sustainable Development Goals, and Toyohashi International Festival 2022 Executive Committee collaborated to hold an SDGs exchange event at emCAMPUS Toyohashi Machinaka Plaza on Sunday, November 6.
In the morning session, international exchange associations from the five Higashi Mikawa cities (Toyohashi, Toyokawa, Shinshiro, Gamagori, and Tahara) and student teams from our university played "SDGs sports" created by students.
On the day of the event, a total of 24 people from 9 countries (Brazil, China, Myanmar, Vietnam, Korea, Philippines, Cambodia, Malaysia, and Japan), including children to adults living in the Higashi Mikawa cities, played the game with their cooperation and friendship under mild autumn weather.
At each venue, exciting games were played, with cheers of joy when the target goal was knocked down.
The winning team was the Shinshiro City International Association "TEAM New Castle" and the runner-up was the Takahara International Association "Takahara Global Powers."
The afternoon session was divided into two parts: a free exchange game with festival participants and a venue where children could freely experience the game. More than 50 people had an opportunity to learn about the SDGs and experienced diversity and inclusion to achieve a goal regardless of age, gender, nationality and so on.
Students from the Carbon Neutral Study Group who organized the event commented, "We are very happy that so many people enjoyed what we had created. We hope to participate in elementary schools and other events in the future."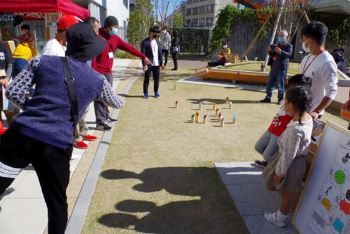 Morning Session: Higashi Mikawa Five Cities International Exchange Association Competition Final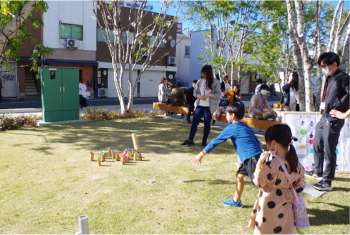 Afternoon session: Children's experience with free participation