Excursions
Toyohashi Festival
Fezai Alaa, Department of Mechanical Engineering
As a student who never visited Japan before I was honored to have had the opportunity to experience this country's natural and cultural beauty. In my mind I always associated Japan with the metropolis of Tokyo, the impressive technology and the modern society. However, being part of a double degree program between the University of Stuttgart in Germany and Toyohashi Tech, I had the opportunity to have a real insight into the Japanese culture and society in this quite small city.
After only one week in Toyohashi I was invited to visit this city's summer festival which took place, as I was told, only once a year. So it was a unique opportunity to experience and learn more about Japanese culture. On that day I first went to the office of the international association of Toyohashi accompanied by other international students coming from different corners of the world. After arriving, we were first offered traditional Japanese clothes to wear. The girls wore beautiful and colorful "Yukata" while we were given elegant "Happi"?straight-sleeved coat made of indigo or brown cotton.
After going for a walk through the streets of central Toyohashi and experiencing some tasty and exotic Japanese food such as "takoyaki", we went back to the office of the international association to practice traditional Japanese dance. As most of us were complete beginners, a dance teacher was there to show us, during one hour, how to perform it the right way. Despite the fact that I was one of the worst dancers, spending these enjoyable moments with people from different countries and ages was one of the most memorable experiences of my life.
The most important event of the day started at 6 pm. It was when we went out to the main street to show the dancing skills that we had practiced. The number of people and groups taking part in the festival was amazingly huge. The flashing lights of Toyohashi, the magnificent colors of the dancing groups and the charming traditional music and sounds made these 30 minutes or so a delightful and awesome experience that marked my first days in Toyohashi.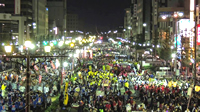 View of the dancing ceremony
Enlarge Image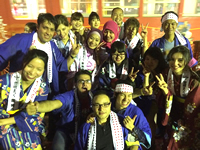 Mr. Fezai Alaa in the center of the front row
Enlarge Image