Club Activities
Karate with a difference
Though karate is commonly thought of a sport, some schools of this martial art disdain that idea and instead foster karate as a form of physical, intellectual, and moral education carried out to perfect one's character. It is this latter form that is practiced by Toyohashi Tech's Karate Circle, having taken up a school of karate called Goju, which originated in Okinawa in the 19 Century.
Some 16 regular members meet twice a week to practice in the Toyohashi dojo or training hall, while another twenty or so 'old boy' members also attend whenever they can—a testament to the life-long zeal instilled by the Gojo discipline. 
"The club used to participate in contests, but stopped in 2005," says Kenta Nishikubo, a first-year masters student studying architecture and civil engineering. "We withdraw because it was going against the basic principle behind Goju karate." Instead, the club now holds an annual event, together with martial art clubs from Toyohashi Tech and other universities.
In addition to developing techniques such as blocks, punches, and sequences of movements called kata, the members also practice with four traditional Gojo weapons: sai (a pointed dagger), tonfa (stick with handle), nunchaku (pair of sticks connected at one end with a short chain), and jo (wooden staff).
"These weapons are all hand made in Okinawa and each member has own their own set," says Yuuki Tani, a fourth-year student of architecture and civil engineering and the club's leader. "The aim is to practice with them until they become an extension of ourselves."
Another enthusiastic member is Nutchakan Kongthong from Thailand, studying computer science and information engineering. "I was interested in Japanese martial arts before I came here," she explains. "I wanted to practice seriously and looked at other martial art clubs here. But the atmosphere and polite way I was greeted by all the members in unison when I came into the dojo knocked me out, so I joined immediately."
As club leader, Tani says it's most important to instill the principles behind Goju karate, especially respect for others. "I have to make sure our practice is based on these principles," says Tani. "For the aim is to merge the practice into our daily lives. This is the difference between Goju karate and karate as a sport."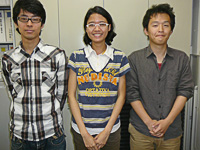 Members of the Toyohashi Tech karate club.
Enlarge Image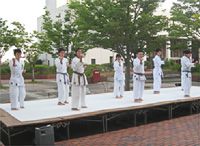 Demonstration
Enlarge Image