Club Activities
Playing rugby has many rewards
Rugby football may not be as popular as baseball or soccer in Japan, but for members of Toyohashi Tech's Rugby Club, enthusiasm for the sport is no less strong. Three times a week, many of the 25 members gather to practice passing and kicking, carry out excises such as sprinting, running and push-ups, and to play field touch rugby.
"Like most of the members, I like physical sports," says Yuta Fujimoto, captain of the team and now in his fourth year studying mechanical engineering. "I started playing the game in technical college, so I've been playing for about seven years. You'll find this is the case with many of the other members."
The club plays competitively against other universities in the C Division of the Tokai regional league. It also arranges friendly matches with local universities, and its members hold practice games between themselves in the annual summer camp get-together. Although members buy their own rugby boots, the university supplies the uniforms, so out-of-pocket expenses are low.
Third-year student and club member Pasan Dunuwila from Thailand studying environmental life sciences, points out that Japan was the first country to take up Rugby Union in Asia, while in Thailand the sport is particularly popular among the police and military. Dunuwila began playing in technical college before coming to Toyohashi Tech. "What I really like about the club," he says, "is the team spirit."
Manager of the club Aki Nemoto, a third-year electronic engineering student, is the only female member. "I take care of things like providing the players with water during games, taping them up before playing and also keeping our home page updated. I enjoy the responsibility and it's fun."
Other members' random reasons for joining the club include, developing a strong body, broadening the mind through playing competitively, enjoying the game's physicality and the increased endurance that comes from all the training and playing the sport.
"We like the game so much," says Fujimoto, that most of us want to continue playing if the companies we join after graduating have rugby teams. But our immediate goal is to win promotion to the B Division this year."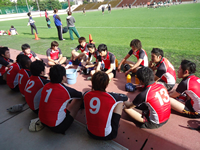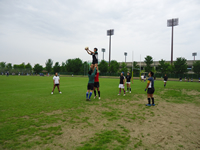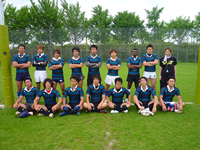 Members of the Toyohashi Tech Rugby Club