Club Activities
Scale modeling club
If you think plastic scale model making is child's play, you haven't seen how seriously members of the Toyohashi Tech Mokei Club (Scale Modeling Club) take their hobby of customizing their models.
Some 15 members gather twice a week for up to four hours a time in the evenings to assemble and refine their models. "Members are free to make any design of model," says Atsuya Wada, a third-year mechanical engineering student and the leader of the club. "But the most popular choices are the various models of Gundam."
As fans of Japanese popular culture know, Gundam is the generic name for giant fighting robots featured in a series of television 'anime'. Notably, the success of the television programs spawned Gundam inspired video games, comics, movies and even a theme park. Other popular model choices follow a military themes including tanks and airplanes.
Wada shows off his customized Gundam model and points out how he has carefully filled the seams between parts with glue and sand-papered them down to give them the same texture as the surrounding plastic. He has also painted on his own designs and provided the robot with weapons he assembled separately.
Yu Miyazaki, the previous club leader and now a first-year master's student at the department of mechanical engineering, describes some of the tools and materials used in assembling the models. Serious modelers use small side cutters to remove the plastic spurs left after detaching the 200 or 300 parts from plastic part holders. Glues, for instance, come in different viscosities with different drying times. Then there are different types of sandpaper employed for smoothing out rough parts, edges, excess glue, and so on.
"Some members also make their own original models from scratch," says Miyazaki. "To work the plastic materials, they use special cutting tools with different detachable heads, measuring cutting boards and hand drills that come with a choice of drill-bit sizes." It's quite a challenge, he says, "to make your own model to your own design, but there is great satisfaction to see it completed."
Wada explains that they do not hold contests, but instead "Show and Tell" events amongst themselves for feedback and opinions. This helps other members learn about techniques and get advice about problems they may encounter in implementing them. "We also display our models at the university festival," he adds, "and show them to freshman to attract new members."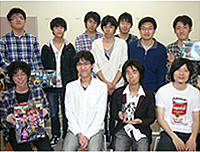 Members of the Toyohashi Tech Mokei Club
Atsuya Wada (Club leader 2nd from right)
Yu Miyazaki (previous leader third from right)