Club Activities
Toyohashi Tech Tea Ceremony Circle: An alcove of serenity
There is nothing half-hearted about participating in the Toyohashi Tech Tea Ceremony Circle. While it is expected that the teacher will wear a kimono during lessons, many of the male members also wear traditional clothes—an indication of their eagerness to enter into the spirit of this traditional ceremony.
The Circle has 26 members, from which as many as sixteen participate twice a week for the two-and-a-half hour classes. Not one but two female teachers of the Urasenke School of tea ceremony instruct the students enabling different levels students to practice at the same time. Classes take place in a atmospheric 12-tatami room known as the chashitsu at the University, which is equipped with a tokonoma or traditional alcove for displaying items of beauty. Notably, the chashitsu also happens to be the only tatami room on the campus.
Kanako Yamamoto is a senior studying material science, and is the leader of the Circle. "I had not studied tea ceremony before coming here. But I immediately liked the quietness and the serenity of the chashitsu. The members of this club were extremely friendly and it all made a good impression on me. So I decided to join the Circle."
Tea ceremony utensils and equipment can be very expensive. However, when the first teacher of the class passed away, she graciously donated a number of personal items to the Circle. The University also provides kimono for members to wear and a few students own their own traditional garments, although casual clothes are also acceptable.
"Participating in the tea ceremony means learning about many things," says Kimiko Takahashi, one of the tea ceremony teachers. "It creates an atmosphere that helps the mind become peaceful for appreciating the truth and beauty of things."
Kohei Tanizaki is a third-year student majoring in manufacturing systems. "Here I am learning more about traditional Japanese culture, manners and polite conversation," he explains. "When I start working in industry after graduating, I think that the things I learn here this will help me to communicate better with my elders."
Members of the Circle give several formal presentations each year, including a demonstration at the Toyohashi Tech student festival and graduation ceremony, as well as performances for the general public in Toyohashi.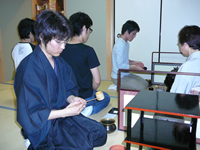 The student wearing the traditional 'hakama' clothing is Tsubasa Okada, a 4th student majoring in Knowledge-based Information Engineering.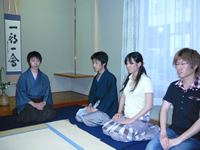 Toyohashi Tech's Tea Ceremony Circle from left to right: Takashi Kodera, third-year majoring in Production Systems Engineering; Kazuya Adachi, third-year Production Systems Engineering; Kanako Yamamoto, fourth-year Materials Science; and Kohei Tanizaki, third-year Manufacturing systems.