Club Activities
A Wind Orchestra of note
Students looking for a creative way to blow off steam could hardly do better than join the Wind Orchestra at Toyohashi Tech. That's the recommendation of some 40 members, including club leader Yuuki Tanji, a third-year undergraduate student studying architecture.
The club is home to players of the flute, oboe, clarinet, saxophone, trumpet, trombone, and several other wind instruments, as well as a variety of drums. Some members own their instruments, while others borrow instruments from the university.
"We meet three times a week for practice and rehearsals," says Tanji. "Each session lasts at least two hours and about 20 to 30 or so members come regularly, which shows how enthusiastic they are."
The kind of music the club plays is classical and some popular pieces, with the members deciding among themselves on the repertoire. New members are recruited through word-of-mouth, a web page (http://tutwo.fc2web.com/) advertising club activities and by performing at the Toyohashi Tech annual festival in the summer.
Tanji's choice of instrument is the saxophone. "I tried playing a variety of instruments, but I found the sax to be the most enjoyable," he says. "I really like the sound."
Beginners are also welcome. "In fact, around half the members are learning to play," says Yuuki Mitoma, a third-year student in mechanical engineering and the club's vice-leader. "It's okay if you don't have any experience because we will help you learn. I teach newcomers how to plat the trombone—my favorite instrument."
The big event of the year, regular concert, is performing before an audience of 600 people at the Life Port Toyohashi Concert Hall. The club has given 26 such major performances since it was founded not long after Toyohashi Tech itself was established in 1976. In addition, the club is invited by local communities to give concerts at local festivals and primary schools, and occasionally performs at hospitals.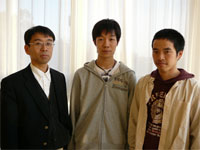 Left to right: Associate professor Hiroshi Okada (advisor to the club); Yuuki Tanji (leader of the orchestra); and Yuuki Mitoma (deputy-leader).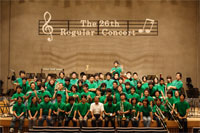 Members of the orchestra at the Toyohashi Life Port Concert Hall.