Club Activities
Robotics club: The secret of success
Toyohashi Tech's student Robot-Contest Club is well named. It was established in 1992 expressly to compete in the annual NHK (Japan's national television and radio broadcaster) University Robocon robot contest. Almost from the beginning the Club chalked up a string of championship successes, coming first in 1994, 1995, 1998 and 2000, and again in 2008 and 2009.
"Just being selected to enter the contest is a challenge," says Club leader Takuya Kurebayashi, a fourth-year student in production systems engineering. "Only 20 teams are chosen from around 80 applicants, based on the submission of a project plan and promotional video."
The Club has ten core members who meet once a week for about four hours, plus another 20 members who attend less regularly. "But as the contest draws near, we often meet daily," says Yuta Honda, a fourth-year student in mechanical engineering. Honda says he has been interested in building robots ever since his middle-school days.
This year's contest, which took place in June, tested the ability of the robots to stack Styrofoam boxes into pyramids of different heights; they were judged on the accuracy of placement and speed in stacking. This put a lot of responsibility on Natsumi Isobe, a third-year student in knowledge-based information engineering and will be next year's leader; the first time the Club has had a female leader.
"I became interested in robots in elementary school when I watched the NHK Robocon program on TV," says Isobe. "So I was eager to join the Club."
All three students say they have been well rewarded for their efforts, having gained valuable experience in areas like project management, team building and cooperation, and a testing of their abilities, limits and patience during highly competitive contest conditions. An added bonus is that winners of the NHK contest are chosen to represent Japan in the ABU Asia-Pacific Robot Contest also held annually.
In explaining the Club's success over the years, Shinichi Suzuki, a professor of mechanical engineering and the Robot-Contest Club's advisor, says, "From the beginning dedicated senior members passed on their knowhow and techniques to the next generation of members; this is why we have enjoyed a long history of success."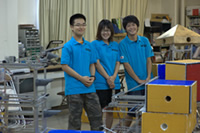 Fig.1: Core members of the Toyohashi Tech Robotics Club. Takuya Kurebayashi (left), Natsumi Isobe (center) and Yuta Honda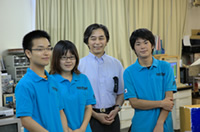 Fig.2 : Robotics Club members with their advisor Professor Shinichi Suzuki.