The president of Queens College, City University of New York (US) visited our university
21 Jan 2016
---
On January 18th, six faculty members from the Queens College, City University of New York (US) (hereafter, QC), Dr. Félix V. Matos Rodríguez (president), Dr. Elizabeth Hendrey (person in charge of the curriculum / vice president), Dr. Martin Klots (head of the Department of Science), Dr. William McClure (head of the Arts and Humanities Department), Assoc. Prof. Megan Healey (head of the Department of Drama, Theatre & Dance), and Dr. Tao Wang (head of the Economics Department) visited our university.
QC and our university concluded an academic exchange agreement in July 2013 and have since been having active exchange. This was the first time President Félix V. Matos Rodríguez visited our university.

After touring the school facilities, President Rodríguez and the others paid a courtesy visit to President Takashi Onishi and Vice President Mitsuteru Inoue and exchanged opinions regarding the collaborations between the two universities.
In the afternoon, President Rodríguez gave a special lecture titled, "The development and challenges of America's public higher education." Approximately 130 faculty members and students attended, and then a lively Q & A session ensued.
After the lecture, President Onishi presented President Rodríguez with a certificate of appreciation for the substantial cooperation of QC with our university.

The visit ended up being an extremely valuable opportunity to advance educational and research exchange between our universities.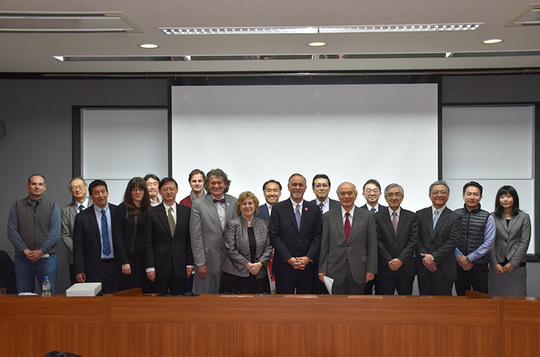 Commemorative Photo