TUT Robocon Club got Design Prize and Special Prize in NHK Robocon 2015
18 Jun 2015
---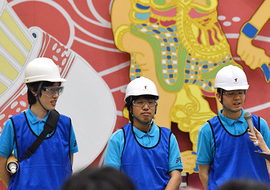 TUT (Toyohashi University of Technology) Robocon Club participated in the NHK Robocon University Robot Contest, which doubled as the ABU Asia-Pacific Robot Contest selection trial, at the National Olympics Memorial Youth Center in Tokyo, on 7 June 2015.
The theme of the Robocon 2015 is badminton's doubles game, "ROBOMINTON - BADMINTON ROBO-GAME." The highlight of the game is how the two robots hit and hit back shuttle by collaborating each other.
TUT Robocon Club was seeded this year, and reached the quarterfinals. Although the team was unable to progress to the semifinals, they got the Design Prize and the Special Prize. The robots having an automatic control function attracted attention of other participants.
The supporters and two vice presidents, Dr. Akira Ohgai and Dr. Kazuhiko Terashima, cheered the team at the contest.
NHK will broadcast the contest on 20 July 2015. You can also see the outstanding robots at the Open Campus 2015 in August.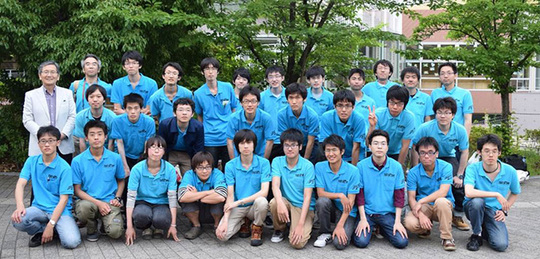 TUT Robocon Club at NHK Robocon 2015