Hideki Tamura, a Master's Program student, won the Best Student Poster Awards on VSS 2015
02 Jun 2015
---
Hideki Tamura, the second-year Master's Program student in Computer Science and Engineering, won the Best Student Poster Awards on the Vision Sciences Society 15th Annual Meeting (VSS 2015).
VSS 2015 was the biggest international conference on vision research held annually.
The Best Student Poster Awards recognized eight outstanding student posters among 1,200 posters at VSS 2015.
It was the first time Japanese student has won the award, and the first time Asian university has won the award.
Sponsor: Vision Science Society
Prize: VSS 2015 the Best Student Poster Awards
Topic: Can the classifier trained to separate surface texture from specular shading infer geometric consistency of specular highlight?
Recipient: Hideki Tamura, the second-year Master's Program student in Computer Science and Engineering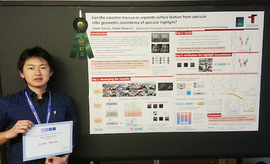 Mr. Hideki Tamura