Vice-Chancellor of Universiti Sains Malaysia visited Toyohashi Tech
09 Jun 2015
---
Toyohashi University of Technology (Toyohashi Tech, TUT) had the pleasure of hosting Professor Omar Osman, Vice-Chancellor, Universiti Sains Malaysia (USM), Professor Ahmad Shukri Mustapa Kamal, Deputy Vice-Chancellor of the university, and six others on 25-26 May 2015.
Established as Malaysia's second university in 1969, USM has three campuses and contains twenty-six schools and multifarious research centers.
Toyohashi Tech concluded an exchange agreement with the university in March 2006.
Vice-Chancellor Omar Osman and others paid a courtesy call to Dr. Takashi Onishi, President, on the first day. Two vice presidents, Dr. Akira Ohgai and Dr. Mitsuteru Inoue, and directors of Institute for Global Network Innovation in Technology Education (IGNITE), was also present during the visit.
They exchanged greetings and confirmed their intention to deepen cooperation between USM and Toyohashi Tech.
After the courtesy visit, the members of USM and Toyohashi Tech had a meeting about the collaborative education programs: Twinning, Joint Degree, and Double Degree. Project Professor Shoji Hamajima of Center for International Relations and the chairs from five departments joined the meeting and exchange their opinions.
Professor Takaaki Takashima explained Toyohashi Tech's efforts at the Top Global University Project after the meeting.
TUT-USM Consultative Committee Meeting was held in the afternoon. The USM group and IGNITE staff members exchanged opinions meaningfully about student internship, joint research collaboration, and summer school programs.
On the following day, some of USM deans visited laboratories related to their specialized fields, and others had meeting about the International Conference of Global Network for Innovative Technology (IGNITE2016).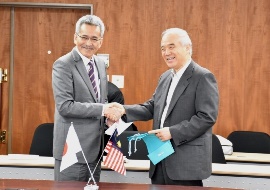 Prof. Omar Osman and President Onishi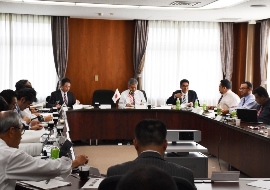 Commemorative Photo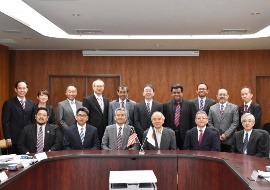 TUT-USM Consultative Committee Meeting