Prof. Oliver Sawodny, University of Stuttgart (Germany) visited Toyohashi Tech
31 Mar 2015
---
Professor Oliver Sawodny, University of Stuttgart (Germany), visited Toyohashi Tech for Program for Leading Graduate Schools on 26-27 March 2015.
University of Stuttgart is a prestigious university in Baden-Württemberg, Germany. The University was founded in 1829, at the beginning of the industrial age in Europe.
Toyohashi Tech concluded an exchange agreement with the university in December 2008.
Prof. Sawodny had a meeting for an exchange of views on Double Degree Program. Prof. Naoki Uchiyama, Prof. Akihiro Wakahara, Prof. Hirofumi Takikawa, Prof. Shuichi Ichikawa and Prof. Masayuki Nagao joined the meeting.
After the meeting, Prof. Sawodny met Dr. Mitsuteru Inoue, Executive Trustee and Vice President, Prof. Shigeki Nakauchi, Project Prof. Shoji Hamajima and Prof. Naoki Uchiyama to discuss Program for Leading Graduate Schools.
Prof. Sawodny lectured in the special seminar themed "The Bionic Handling Assistant ~ Modeling and Control of Continuum Manipulators and Dynamic Modeling of Biochemical Reaction Networks in Systems Biology ~"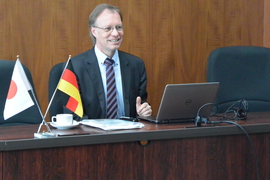 Professor Sawodny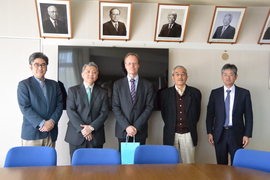 Commemorative Photo