Rector of Thammasat University (Thailand) visited Toyohashi Tech
13 Mar 2015
---
On 9 March 2015, Toyohashi Tech had a pleasure of hosting Prof. Somkit Lertpaithoon, Rector, Thammasat University (Thailand), and Dr. Prapat Wangskarn, Dean, Faculty of Engineering at the university.
Thammasat University is Thailand's second oldest institute of higher education, and officially established as the University of Moral and Political Sciences in 1934 and then established the Faculty of Engineering in 1989.
Rector Lertpaithoon and Dr. Wangskarn paid a courtesy call to Dr. Takashi Onishi, President. Before the courtesy visit, the delegation had a meeting with Dr. Akira Ohgai, Exective Trustee and Vice President, Dr. Mitsuteru Inoue, Exective Trustee and Vice President, and Professor Naohiro Hozumi during the symposium on the Program for Promoting the Enhancement of Research Universities at Hotel Arc Riche Toyohashi.
They gave brief overviews of their respective universities and confirmed their cooperation.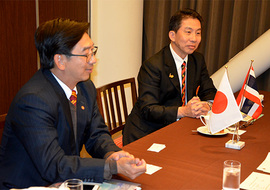 Prof. Lertpaithoon and Dr. Wangskarn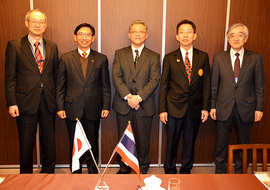 Commemorative Photo