Prize-Winners Announced for "Global Student Lodging" Idea Entries
06 Mar 2015
---
On February 18, the prizewinners were announced from among the entry ideas for "Global Student Lodging," which is scheduled for the construction as a part of the "Top Global University Project."
The plan is for shared student housing so that international students and Japanese students can live together. This program will create shared, multicultural living space on campus to spur our campus globalization. We aim to develop interpersonal skills applicable globally through Japanese and international students living together. We are preparing for the start of this program in April 2017. Two categories of ideas were accepted from students and faculty: layout plans and names. The winners and honorable mentions were selected from 26 entries.
The judging committee was composed of Takashi Onishi, President of Toyohashi University of Technology; Akira Ohgai, Vice President; Kazuhiko Terashima, Vice President; Takaaki Takashima, Director-General of the Top Global University Project Promotion Headquarters; and Masami Takahashi, consulting designer.
The winner in the layout plan category was "En -Tsunagari- (Building Bonds)", which was submitted by Takaaki Tanimoto, Tsuyoshi Kubota, Masamichi Ueda, and Yoshiaki Suzuki, third year students from the Department of Architecture and Civil Engineering.
There were no entries that qualified for the top prize in the name category.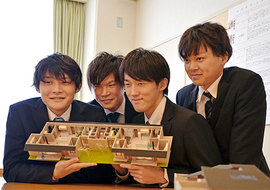 Winner in the layout plan category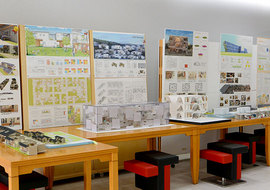 Display of the entered works and models