Toyohashi Tech Welcomes Visitors from The City University of New York Queens College (U.S.A.)
04 Mar 2015
---
Three visitors from The City University of New York Queens College (QC) (U.S.A.)--Assistant Vice Provost Eva M. Fernández, Executive Director of International Teaching & Learning English Donna Gruber, and Interim Dean of Division of Math & Natural sciences Professor Robert R. Engel--were at the university on February 16 and 17.
QC has four academic divisions: Arts and Humanities, Education, Mathematics and the Natural Sciences, and Social Sciences. It was ranked eighth among Top Public Schools and 31st among Regional Universities in the North overall in the 2015 U.S. News Best College Rankings. It concluded an exchange agreement with Toyohashi Tech on July 2013, and this was the first visit since the agreement was signed.
On the 16th, the visitors had a luncheon meeting with President Takashi Onishi ,Vice President Mitsuteru Inoue, Professor Atsunori Matsuda, Professor Takaaki Takashima and Professor Takayuki Shibata where they were asked about the purpose of their visit to Japan, and both parties gave a presentation on their respective universities.
In addition, Ms. Fernández and Ms. Gruber of QC gave a special lecture on hints for learning English as a foreign language titled, "Introduction of City University of New York Queens College and Fostering the Ability to Use English as a Foreign Language." Around 90 students and faculty attended, and engaged in a lively question-and-answer session after the lecture.
The following day, the faculty from QC attended a round table held by students from Toyohashi Tech on the topic of "Aiming to Be a Global Leader." The students became more motivated to be globally active leaders, and learned some hints on how to take the first steps towards such a future.
After the students introduced themselves and presented their own ambitions, anxieties, and doubts about becoming future global leaders and engineers, they moved on to more open discussions with the QC faculty.
They had limited time for their visit, but it was an extremely valuable opportunity to further the educational and research interactions between the two universities.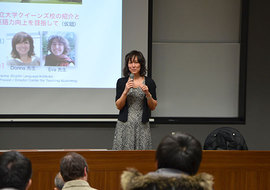 Ms. Donna Gruber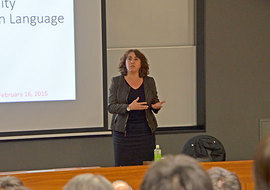 Ms. Eva M. Fernández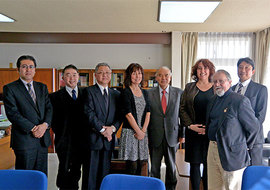 Commemorative Photo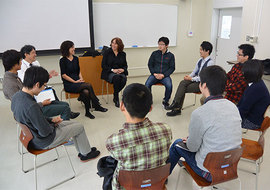 Roundtable Discussion