Lomonosov Moscow State University (Russia) visited Toyohashi Tech
02 Feb 2015
---
Professor Granovsky Alexander Borisovich from the Lomonosov Moscow State University (Russia) paid our university's president a courtesy call on January 21st.
The Lomonosov Moscow State University is the oldest and the biggest prestigious university in Russia with approximately 1,000 facilities standing in a row on a vast land of 1 million square meters. With accomplishments in the natural science department being especially high, it is a worldwide famous university that produced over 10 Nobel Prize winners in the past. Our university concluded an exchange agreement with the university in December 2012.
Professor Granovsky Alexander Borisovich was here to conduct research instructions for students in the doctoral program, conduct lectures on Program for Leading Graduate School, and research meetings. He had meeting with President Takashi Onishi/ Vice President Akira Ohgai/ Vice President Mitsuteru Inoue, and Assistant Professor Taichi Goto.
We hope that this courtesy visit became a good opportunity to advance exchanges on education and research of the two universities.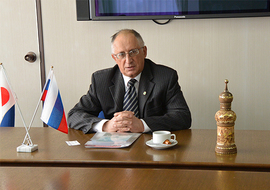 Prof. Granovsky Alexander Borisovich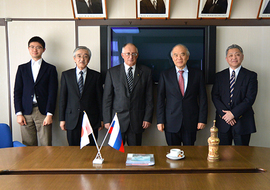 Commemorative Photo