Pathumwan Institute of Technology (Thailand) visited Toyohashi Tech
02 Feb 2015
---
From 13th to 14th January 2015, Dr. Panya Minyong, President of Patumwan Institute of Technology (PIT) and other visited Toyohashi University of Technology (Toyohashi Tech).
PIT is a public university which is located in Bangkok.
The Institute has two academic units: the faculty of Engineering and the faculty of Education.
This is the third time PIT has visited Toyohashi Tech since we had concluded an exchange agreement in May 2013.
On 14th of January, they had a meeting with Dr. Takashi Onishi, President, Dr. Mitsuteru Inoue, Executive Trustee and Vice President, Dr. Akira Ohgai, Executive Trustee and Vice President and Dr. Kazuhiko Terashima, Vice President of Toyohashi Tech.
The next day, they had discussion about the admission of research exchange student and life of international students with the officers of International Affairs Division and a student from Thailand.
During the visit they had the chance to visit the Research center for Electronics-Inspired Interdisciplinary Research Institute (EIIRIS) and the Center for Human-Robot Symbiosis Research (CHRSR).
Despite a limited time schedule, this visit was very fruitful for both universities to develop inter-exchange in research and education for the future.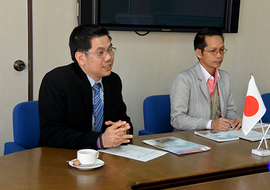 President Dr. Panya Minyong (Left)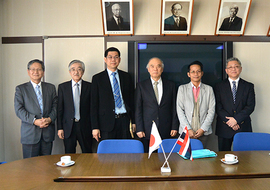 Commemorative Photo