The International Conference of Global Network for Innovative Technology 2014 in Penang, Malaysia
16 Jan 2015
---
From 14th to 16th December 2014, the International Conference of Global Network for Innovative Technology 2014 (IGNITE2014) was held in co-sponsorship with the Universiti Sains Malaysia (USM), and Toyohashi Tech with the objective of announcing advanced research results of various fields of applied technology.
This was the second time it was held, with the first conference being held last year to coincide with the opening of our university's Malaysian education base.
In addition to researchers and students from USM, there were many participants from multinational corporations doing business in Penang. As a result, a total of more than 100 people attended, including researchers and students from Japan.
On the 14th, the day before the conference, an opening ceremony was held at the Hotel Jen Penang. On the 15th and 16th, the event moved to the venue at our university's Malaysian education base, and two keynote lectures, 70 oral and poster presentations, and tutorial sessions for young researchers were conducted, and very active discussions ensued. Toyohashi Tech's Taichi Goto, the Assistant Professor at the Department of Electrical and Electronic Information Engineering, was selected to receive the most outstanding presentation award announced on the last day.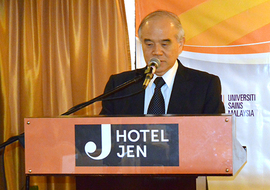 President Takashi Onishi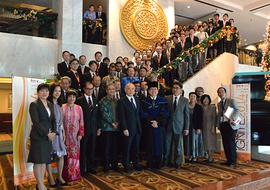 Participants of IGNITE2014