Toyohashi Tech International Student Program 2014
28 Nov 2014
---
Toyohashi Tech International Student Program 2014 was held over five days from Monday 27th October to Friday 31st October, 2014, with the participation of 23 students from six overseas partner universities and 28 students from our university, the Toyohashi University of Technology (Toyohashi Tech).
From day one, the students experienced a campus tour and basic Japanese language class and interacted with Toyohashi Tech students and faculty through exchanges with our students and a welcome party.
Activities from the second day on involved the students splitting up into six groups with Toyohashi Tech students (including international students) to discuss topics such as disaster prevention, future cities, and campus life. The students deepened their understanding of the research activities and lives of Toyohashi Tech students through visiting laboratories and observing research facilities and equipment as well as attending seminars.
With regards to activities outside the school, the students learned about the process of cleaning polluted water utilizing the power of microorganisms at the Toyogawa Sewage Treatment Center, and tried the tea ceremony and flower arrangement as Japanese culture experiences. In addition, the students toured the Toyota Commemorative Museum of Industry and Technology on a field trip and learned about the development of Japanese industries and technology.
On the final day, the discussions were summarized and each group made a presentation. Although time was short, the students experienced a variety of things, and the training course turned out to be rewarding to both the students we accepted and to our own students.
This program was conducted with some aid from the Sakura Exchange Program in Science of JST. We also plan to continue to conduct programs that will spark the interest of even more overseas students to come to our university as international students.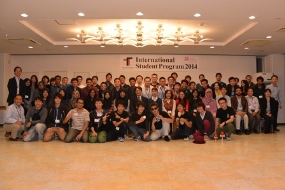 Welcome party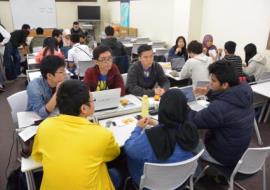 Group discussion