Dr. Kazuhiko Terashima and Dr. Tomoaki Mashimo was awarded Best Paper Award Finalist on SII 2014
07 Jan 2015
---
Three members were awarded Best Paper Award Finalist on 2014 IEEE/SICE International Symposium on System Integration (SII 2014): Professor Kazuhiko Terashima in Department of Mechanical Engineering, Tenure Track Assistant Professor Tomoaki Mashimo in Electronics-Inspired Interdisciplinary Research Institute (EIIRIS) and Mr. Takahito Yamashita in the third-year Doctoral Program, Department of Mechanical Engineering.
This prize is awarded to 7 outstanding papers among 190 papers from 10 countries on SII 2014.
This year, the annual international conference on Control, Robots and Systems was held on 13th-15th December 2014 in Tokyo, Japan.
Sponsor: The Society of Instrument and Control Engineers (SICE)
Prize: Best Paper Award Finalist
Topic: Safeness of a Robot Arm using Ultrasonic Motors with High Responsiveness and Backdrivability
Recipient:
Professor Kazuhiko Terashima, Department of Mechanical Engineering
Tenure Track Assistant Professor Tomoaki Mashimo, EIIRIS
Mr. Takahito Yamashita, the third-year Doctoral Program student in Department of Mechanical Engineering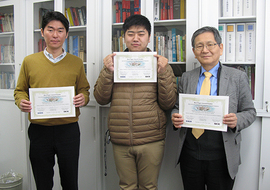 Dr. Mashimo, Mr. Yamashita and Dr. Terashima (from the left)