Khairun University (Indonesia) visited Toyohashi Tech
24 Dec 2014
---
On 19th December 2014, Mr. Ahmad Seng, Dean of Engineeeing Faculty, Dr. Muhammad Amin, Head of International Office, and two other lectures from Khairun University (Indonesia) made the courtesy call on Dr. Mitsuteru Inoue, Executive Trustee and Vice President, Toyohashi University of Technology (Toyohashi Tech).
Khairun University is a state university which located in the District of North Maluku, Indonesia. The university consists of 7 faculties with 34 study programs.
After introducing both universities, the delegation and Professor Naohiro Hozumi, the director of The International Cooperation Center for Engineering Education Development (ICCEED), Associate Professor Nobumasa Sekishita and Project Assistant Professor Hirotugu Kamahara exchanged opinions on the possibility of collaboration between the universities and sending lecturers of Khairun Unversity to pursue the doctoral degree in Toyohashi Tech by Directorate General of Higher Education Scholarship.
We hope that this courtesy visit became a good opportunity for Khaiurn University and Toyohashi Tech to further develop the academic exchange.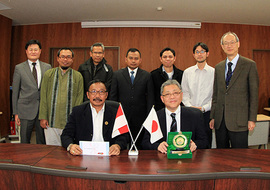 Commemorative Photo