Hasanuddin University (Indonesia) visited Toyohashi Tech
11 Dec 2014
---
On 9th December 2014, the delegation of Hasanuddin University, UNHAS, in Indonesia, led by its Rector, Prof. Dwia Aries Tina Pulubuhu, visited our campus to participate in a signing ceremony of the Agreement of Twining Program and made a courtesy call on our President, Dr. Takashi Onishi.
UNHAS is one of the biggest stated-owned universities in eastern Indonesia and has more than 33,000 students and more than 3,000 graduates every year.
This is the third time UNHAS has visited Toyohashi Tech since we had concluded an exchange agreement in May 2001.
The Agreement was signed by Dr. Mitsuteru Inoue, Executive Trustee and Vice President of Toyohashi Tech. The signing ceremony was also attended by Dr. Takashi Onishi, President, Dr. Akira Ohgai, Executive Trustee and Vice President, Prof. Takanobu Inoue, Executive Presidential Advisor, Prof. Hiroshi Matsumoto, Dean of Architecture and Civil Engineering, Prof. Shiro Matsushima, Prof. Yuzuru Miyata, and Associate Professor Junichiro Asano.
After the signing ceremony, they exchanged opinions on the specific development of Twinning Program hereafter.
During the visit the delegation had the chance to visit the Research center for the Agrotechonology and Biotechonology.
We hope that this Agreement helps develop a deeper understanding and relationship between the two universities.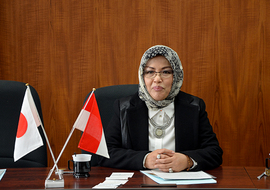 Rector, Dwia Aries Tina Pulubuhu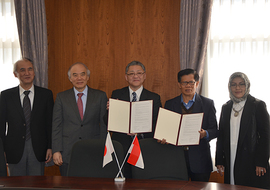 The Signing Ceremony