University of Lampung (Indonesia) visited Toyohashi Tech
02 Dec 2014
---
On 28th November 2014, Prof. John Hendri, Vice Rector for Planning and Cooperation, and other three faculty members from University of Lampung (UNILA, Indonesia) visited Toyohashi University of Technology (Toyohashi Tech).
UNILA is a public university which is located in the capital city of the Province of Lampung. The province is on the most southern part of Sumatera and in proximity to island of Java. The university consist eight faculties, i.e. Economics, Law, Education, Agricultural Science, Engineering, Social and Political Sciences, Math and Natural Science, and Medicine.
This is the first visit since UNILA had concluded an exchange agreement with our university in November 2006.
After introducing both universities, the delegation from UNILA and Faculty staff of Toyohashi Tech responsible for international relations talked about the specific development of student exchanges hereafter between the two universities and expressed their anticipation of enhanced exchanges in the future.
The delegates visited the Research center for the Agrotechonology and Biotechonology, the Department of Environmental and Life Sciences and the Toyogawa sewage Treatment Plant near Toyohashi Tech.
Although the visit was short, it proved to be a very valuable occasion in terms of the advancement of exchanges on the research and education fronts of both universities.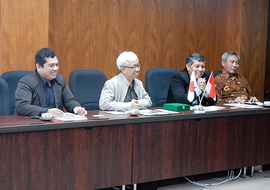 Prof. John Hendri, Vice President, and other three faculty members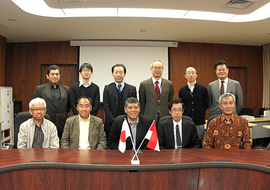 Commemorative Photo