An honorary doctorate was conferred on Dato' Seri Kelvin, Kiew Kwong Sen
15 Dec 2014
---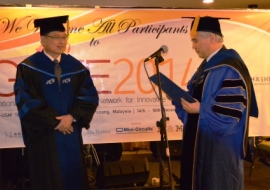 Mr. Kiew and President Takashi Onishi
Toyohashi University of Technology conferred an honorary doctorate on Dato' Seri Kelvin, Kiew Kwong Sen in recognition of his contribution to our international collaboration.
Dato' Seri Kelvin, Kiew Kwong Sen has shown great understanding and support towards the TUT-USM initiative to establish a joint campus in Penang. Mr. Kiew has built up a formidable network of contacts and influence across the Penang State government, local industry and science and technology educational institutions. We are certain that his great accomplishments and valuable insights have been indispensable for us in promoting the development and education of human resources, and in our research activities conducted in collaboration with Penang local industries.
The honorary Degree Conferment Ceremony was held at Jen Hotel in Penang, Malaysia during International Conference of Global Network for Innovative Technology (IGNITE 2014) on 14 December 2014.
Links to relevant sites:
- TUT-USM Penang website: IGNITE 2014
- the Sun daily Malaysia