University of Brawijaya (Indonesia) visited Toyohashi Tech
28 Oct 2014
---
Dr. Achmad Wicaksono, the Director of the Quality Assurance Center at University of Brawijaya, Indonesia, and other 5 faculty members visited Toyohashi University of Technology on 23rd October.
University of Brawijaya (UB), located in the center of East Java, Indonesia, is becoming an outstanding world-class university and able to take active part in national development through education, research and community service.
UB and Toyohashi Tech signed an Inter-University Exchange Agreement in October 2012. This visit was requested by UB, and arranged to discuss about quality assurance system and accreditation of higher education.
The delegates had an discussion with our Vice President Akira Ohgai, Executive Professor Takanobu Inoue and Professor Mitsuo Fukuda about the Quality Assurance system of UB and current progress for the Certification systems of Japan Accreditation Board for Engineering Education (JABEE) of Toyohashi Tech.
In addition, they had an inspection tour to Electronics-Inspired Interdisciplinary Research Institute (EIIRIS) and Venture Business Laboratory, and they had lunch with Indonesian students of Toyohashi Tech.
Although the visit was short, it proved to be a very valuable occasion in terms of the advancement of exchanges on the research and education fronts of both universities.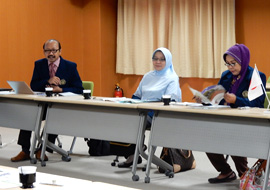 The visitors from University of Brawijaya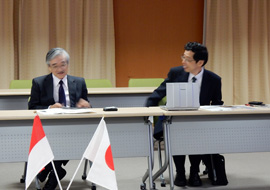 Dr. Akira Ohgai and Dr. Takanobu Inoue