Professor Kazuhiko Terashima and Associate Professor Takanori Miyoshi was awarded Outstanding Paper Award on ICCAS 2014
14 Nov 2014
---
Four members and one graduate, in the Department of Mechanical Engineering, were awarded Outstanding Paper Award on ICCAS 2014: Professor Kazuhiko Terashima, Associate Professor Takanori Miyoshi, Research Fellow Yuki Ueno, Mr. Daisuke Watanabe in the first-year Master's Program and Mr. Kenta Itokazu who had completed the Master's Program of Toyohashi.
This prize is awarded to several outstanding papers among 337 papers from 25 countries on the 14th The International Conference on Control, Automation, and Systems (ICCAS), which was held on 22-25 October 2014 in Korea.
The Conference was inaugurated in 2001 to bring together researchers and engineers, who are specializing in the theories and applications of control, automation, and systems engineering.
Sponsor: Institute of Control, Robotics and Systems (ICROS)
Prize: Outstanding Paper Award
Topic: Modeling and Taylormade Training Method Using Neural Network for Specific Muscle of the Upper Limb
Recipient:
Professor Kazuhiko Terashima, Department of Mechanical Engineering
Associate Professor Takanori Miyoshi, Department of Mechanical Engineering
Research Fellow Yuki Ueno, Department of Mechanical Engineering
Mr. Daisuke Watanabe, the first-year Master's Program in Department of Mechanical Engineering
Mr. Kenta Itokazu, who had completed the Master's Program of Toyohashi Tech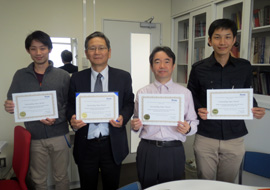 Mr. Watanabe, Prof. Terashima, Assoc.Prof. Miyoshi, Research Fellow Ueno (from the left)