Hideki Tamura, the Master's Program student in Computer Science and Engineering was awarded APCV 2014 Best Student Presentation Award
31 Jul 2014
---
Hideki Tamura, the first-year Master's Program student in Computer Science and Engineering, was awarded APCV 2014 Best Student Presentation Award.
Asia-Pacific Conference on Vision (APCV) is the international conference on vision research held annually.
This prize is awarded to the student made the most outstanding presentation for developing young personnel on vision research from among the research presentations at APCV 2014.
Sponsor: APCV Council
Prize: APCV 2014 Best Student Presentation Award
Topic: Relationship between brightness enhancement and self-luminosity of the glare illusion
Recipient: Hideki Tamura, the first-year Master's Program student in Computer Science and Engineering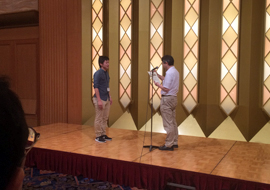 Award Ceremony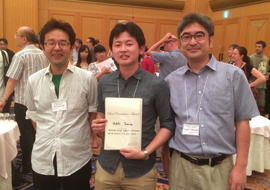 Mr. Hideki Tamura holding award certificate