Research University Carnival in Malaysia
24 Jun 2014
---
June 13th -June 14th, 2014
Research University Carnival in Malaysia
Prof. Dr. Atsunori MATSUDA, Director of Center for International Educations (CIE), and academic staffs of CIE attended at Research University Carnival in Universiti Sains Malaysia (USM).
The carnival was held to publicize activities of research universities, focusing on industry-university cooperation.
Five Malaysian research universities (USM, Universiti Teknologi Malaysia, Universiti Kebangsaan Malaysia, Universiti Putra Malaysia, Universiti Malaya) and a lot of participants from local companies and schools gathered at the event.
The event was honored with the presence of Dato' Seri Haji Idris Bin Jusoh, Education and Higher Learning Minister, Malaysia. Prof. Matsuda enjoyed the precious opportunities to meet with the honorable Minister Dato' Seri Jusoh at the TUT & USM booth, and also sitting together with the honorable Minister, and the other panelists, Mr. Gregory L.Foster (Dolphin Application Sdn Bhd.), and Dato' Mohd Sofi Osman (Altera Corporation Technology Centre) at the succeeding Industrial Forum, titled "The role of research university in propelling R&D in local industries."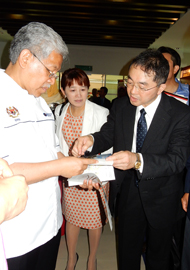 Dato' Seri Haji Idris Bin Jusoh,Education and Higher Learning Minister (the one on the left)
Dr. Atsunori MATSUDA, the Director of CIE (the one on the right)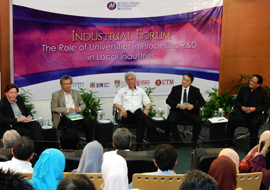 Industrial Forum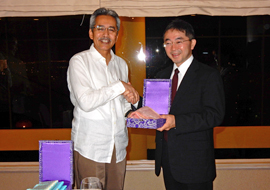 Prof. Dato' Omar Osman, Vice Chancellor USM (the one on the left)