Dr. Prapat Wangskarn, Thammasat University (Thailand) and 4 others visited Toyohashi Tech
12 May 2014
---
Dr. Prapat Wangskarn, the Dean of the Faculty of Engineering at Thammasat University (Thailand) and four others visited Toyohashi University of Technology on April 17th.

Established in 1934, Thammasat University is the second oldest in Thailand and is a comprehensive university that represents the country along with Chulalongkorn University. While the university originally focused on the Humanities and Social sciences, an engineering department was newly opened in 1989.

This was the first visit since Thammasat University had concluded an exchange agreement with our university in March 2014. The attendees, including Dr. Prapat Wangskarn, the dean of the Faculty of Engineering, and Executive Trustee, Vice President Dr. Akira Ohgai exchanged opinions on the specific development of student exchanges hereafter between the two universities and expressed their anticipation of enhanced exchanges in the future.

Although the visit was short, it proved to be a very valuable occasion in terms of the advancement of exchanges on the research and education fronts of both universities.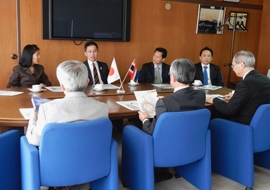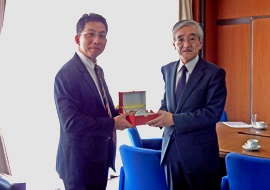 Dr. Prapat Wangskarn of Thammasat University
and Dr. Akira Ohgai of Toyohashi Tech