The Irago Conference 2013
14 Nov 2013
---
The Irago Conference 2013 was held 24–25 October 2013 at the Irago Spa and the Irago Sea-Park & Spa Hotel, Tahara, Aichi, Japan. Underscoring the increasing awareness for an interdisciplinary approach to research and access to on-line live streaming of the proceedings attracted a total of approximately 200 people participants in the one and a half day conference.
Highlights included a talk via internet conferencing by Prof. S. Ramaswamy from the National Center for Biological Sciences (NCBS) in Bangalore on "Converting Discovery to Innovation in an Academic Environment". Professor Ramaswamy described a program at The Centre for Cellular and Molecular Platforms to nurture and develop commercially viable academic discoveries "through a combination of scientific and non-scientific expertise and infrastructure, along with its collaborators in the science and business domains."
Dr Hiroshi Fujiwara, president of Broadband Tower, Inc., Japan, emphasized the impact of 'big data' on the 4th Industrial Revolution.
Developments in science and technology in Korea were described by Professor Kwang Sun Kim, Korea University of Technology and Education and Eun Kyu Lee of the National Research Foundation, Korea. Similarly, Dr Chadaram Sivaji, Embassy of India, Tokyo, described science and policy in India.
In the life sciences speakers discussed advances in unlabeled chemical image sensing; cancer diagnostics; and open innovation in biotechnology.
Innovative contributions by mathematicians were described by Professor Toru Uzawa of Nagoya University, Japan.
The Graduate Student Session was held during the lunch break, with members of the audience given the taks of selecting the best student speaker.
Papers from the Irago Conference will be published in AIP Conference Proceedings.
The Irago Conference 2014 is scheduled to be held 24-25 October 2014 at AIST, Tsukuba.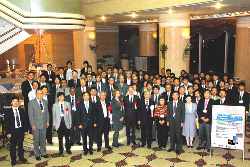 Participants at the Irago Conference 2013