President Yoshiyuki Sakaki Selected as Person of Cultural Merit
12 Nov 2013
---
President Yoshiyuki Sakaki has been selected as a Person of Cultural Merit for 2013 by the Japanese Government.
President Sakaki was born in 1942. He gained his Ph.D. in Biochemistry from the Graduate School of Science of the University of Tokyo. Following that, he became a researcher at the University of California Center for Virus Research, a research fellow at the Mitsubishi Kasei Institute of Life Sciences, a professor at the Research Center for Genetic Information, Medical Institute of Bioregulation, Kyushu University, a professor at the Institute of Medical Science, the University of Tokyo, director of the Human Genome Center of the aforementioned institute, and director of the RIKEN Genome Sciences Research Complex. Since April 2008 he has been the president of Toyohashi University of Technology.
In the field of genome science, President Sakaki has applied molecular biological techniques to complex humans and primates to clarify the functions of their genetic structure. Furthermore, President Sakaki also played a central role as leader in planning both the Japanese and international human genome projects to map the human genome. He is also the recipient of the Chunichi Cultural Prize in May 2003 and the Medal with Purple Ribbon in November 2003.
The Person of Cultural Merit system honors those recognized as having contributed to the advancement and development of culture through their achievements in academia or the arts. The system was established in 1951 under the Law on Pensions for the Persons of Cultural Merit, honorees being decided by the Minister of Education, Culture, Sports, Science and Technology from selections made by a panel of judges. The award-giving ceremony was held on November 5 in Tokyo.
President Sakaki is also well-versed with the arts and culture, and has made significant contributions to local musical culture since his appointment to Toyohashi. In particular, he appeared in the opera Carmen performed in 2009 by the Mikawa City Opera, and as a learned advisor to the 2013 opera Turandot, helping to create major achievements in the history of the local opera. Currently serving as the director of the Mikawa City Opera Chorus Group and the Mikawa City Chorus Club, he continues to be an irreplaceable presence in local musical culture.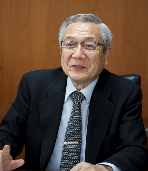 President Yoshiyuki Sakaki