Toyohashi Tech and Queens College Conclude Exchange Agreement
22 Aug 2013
---
Toyohashi University of Technology (President Yoshiyuki Sakaki) and Queens College, City University of New York City, (President James Leroy Muyskens) concluded an inter-university exchange agreement on 29 July 2013.
Since being selected for the Ministry of Education, Culture, Sports, and Science and Technology's National University Reform Enhancement Promotion Project in the 2012 academic year, Toyohashi University of Technology (Toyohashi Tech), Nagaoka University of Technology, and the Institute of National Colleges of Technology, Japan, have worked to develop not only globally-oriented personnel who can play active roles overseas but also innovation-oriented personnel who are internationally competitive and can invigorate local industries. As part of these efforts, there are plans to send teaching staff from Toyohashi Tech to the U.S. for faculty development training at Queens College in order to strengthen their global human resource development skills, which led to this exchange agreement.
Concluding this agreement is extremely significant in that there are hopes that this will lead to additional research and student exchanges with Toyohashi Tech.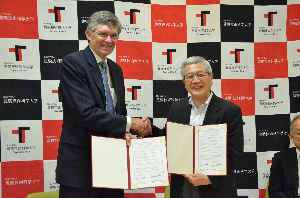 Queens College President Muyskens concluding the agreement with President Sakaki