The 26th lecture of the Prestige Lecture series designed by President Sakaki was held by inviting Dr. Toshihide Maskawa, (Director General, Kobayashi-Maskawa Institute for the Origin of Particles and the Universe, Nagoya University), as a lecturer.
14 May 2013
---
On April 25, we invited Dr. Toshihide Maskawa, the Director General of Nagoya University's Kobayashi-Maskawa Institute for the Origin of Particles and the Universe and held the 1st lecture for the FY 2013 Tailor Made Baton Zone Educational Program's "Development Leader Master's Course " co-hosted with the 26th lecture of the Prestige Lectures designed by President Sakaki.
This lecture titled, "Intellectual Curiosity as the Source of Creativity " was conducted in front of an audience of approximately 640 people, which included people from outside the university, in a dialog format between Dr Maskawa and President Sakaki. Through citing what triggered Dr. Maskawa to get into particle research in the first place, memories of his graduate school years, the moment he thought of the 6-quark model that became the subject of the Nobel Prize in Physics, among others, the two talked passionately about the world view of researchers, ways to live and think that will greatly impact creativity, and more .
The dialog was fun and passionate and revolved around the following Maskawa philosophy: the fact that one will encounter the real thing for the first time in whatever one decisively jumps into that one admires, finds interesting and fun, and by taking wholehearted action on one's own accord; in regards to work, having general knowledge of its history including matters surrounding it will become an opportunity for good insight; having passionate late night debates with people on about the same level will allow one to grow significantly; that it is good to undertake research freely without being too concerned about effectiveness because in research, there are those accomplishments that are readily useful, but also those that turn out to be useful at unexpected times and in unexpected places; it is most important to have a sense of play and have broad interest in all sorts of matters and not narrowing objectives too astutely too early.
Further, today, with all the progresses, it is possible to create new academic disciplines in science and engineering; and there is no need to haggle over which area one may be more suited in by thinking about the boundaries of the two. Instead, it is much more meaningful to engage in what one finds interesting. Further, once a scientist thinks, "that is what god decided" he/she loses. "Why does that happen" is something that has to be infinitely questioned, and at the same time, also fun. The fundamental spirit of scientists was discussed as well. With humor at times and Dr. Maskawa's very human way of telling his stories, as well as the coordination of President Sakaki, the lecture was a memorable one for the entire audience.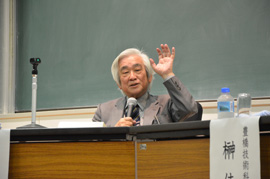 Scene of the lecture①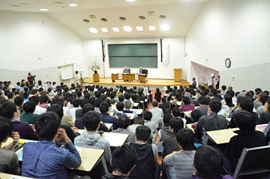 Scene of the lecture②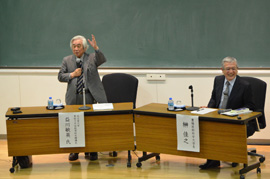 Dr. Maskawa responding to questions