TUT Welcomes Students from Northeastern University in China for Summer School Program
25 Sep 2012
---
Toyohashi University of Technology hosted 11 students and two faculty from Northeastern University in China as part of TUT's ten-day Summer School Program held between August 22 and 31. The group from NEU, which is one of TUT's university exchange partners, was led by Wang Mei, deputy dean of the NEU School of Materials and Metallurgy. TUT has had an office on NEU premises since January 2006 under the exchange program which seeks to promote lively cooperation on research and education between the institutions. The latest group of NEU students was hosted as part of the exchange partnership.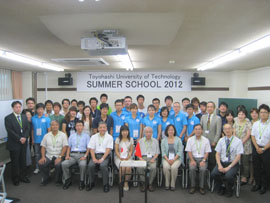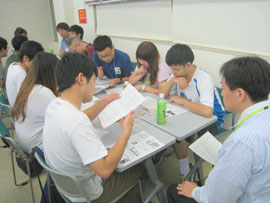 Students and faculty from NEU and TUT Students participate in group debates

The Chinese students learned some Japanese, experienced Japanese culture in the form of the tea ceremony and flower arranging, stayed with host families to get a feel for Japanese home life, and even visited Toyota Corporation's car factory, all of which was aimed at deepening our guests' understanding of Japanese society and culture. In addition, the Chinese students were joined by 17 of their TUT counterparts and conducted a group debate in English on topics relevant to engineering such as resources, the environment, automobile, and energy. On the final day, students made presentations, again in English, highlighting the outcomes of the program.
The debates with TUT students and the interaction with the host families provided the NEU students with innumerable opportunities to learn about Japanese society and culture. Expectations are now high that these upstanding young people will further bridge the gap between our two countries and bring us closer together in the future.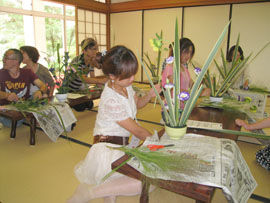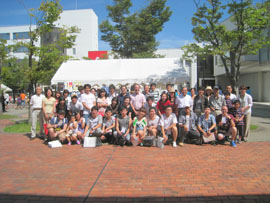 NEU students get a taste of Japanese culture The NEU group also took part in the TUT open campus