President Sakaki gives an opening speech again this year as he cheers on the participants in the 2012 Omotehama Blue Walk
24 Aug 2012
---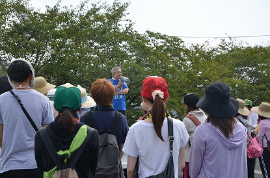 The Omotehama Blue Walk is an initiative for alumni of Toyohashi Tech to clean up the 50km of Omotehama shoreline, giving them the opportunity to serve their community by cleaning up the beach while strolling, chatting and having fun.

Starting at the border between Aichi and Shizuoka prefectures, the volunteers wend their way to the Irago Cape Lighthouse over nine days. This year marks the sixth Omotehama Blue Walk.

The opening ceremony was held on the morning of August 10, and President Yoshiyuki Sakaki sent this year's participants on their way with a rousing speech.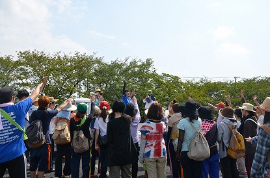 Spanning Toyohashi and Tahara cities in Aichi Prefecture, Omotehama's extremely rare arc-shaped shoreline stretching 50 kilometers contains sand beaches, cliffs, and dunes. The local coastline boasts a rich natural environment, and is famous as a spawning ground for loggerhead turtles. However, increasing volumes of household waste carried by rivers from adjacent towns have washed up from the sea and have conspired to sully the beautiful vistas. There is also concern that the trash will impact wildlife as they may get tangled up with the trash or swallow the trash by accident.

The Omotehama Blue Walk seeks to turn back the tide in a unique way by turning a beach stroll into a cleaning crusade. Participants continually pick up garbage as they continue their walk along the shoreline until they reach the goal for the day; starting off the next day from the point where they left off the day before. Participating the entire nine days ensures that the 50 kilometers were completely walked and cleaned.