Student Lunch Time Colloquia is held for the first time
18 Jul 2012
---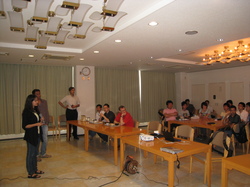 On 13th July, the first time Lunch Time Colloquia presented by exchange students were held in the Hibari Lounge, Toyohashi University of Technology.

Mr Chandra Prakash and Ms Gauri Patwardhan, Internship students at EIIRIS (Electronics-Inspired Interdisciplinary Research Institute), came from Indian Institute of Technology Delhi, gave presentation about their researches, lives in Japan, and academic atmosphere in IIT Delhi.
Both Japanese and international students, researchers in EIIRIS; more than 40 people joined this event.

This is our first time to have this opportunity to get some "feed backs" from short term students. They are also the first internship students accepted in EIIRIS.
This was surely interesting moments for us to know academic atmosphere in other country, especially in one of the top universities in Asia, and also for the two students came to Japan for the first time.