15th Lunch Colloquium -by Dr Tero, Tenure Track Assistant Professor (EIIRIS)
22 May 2012
---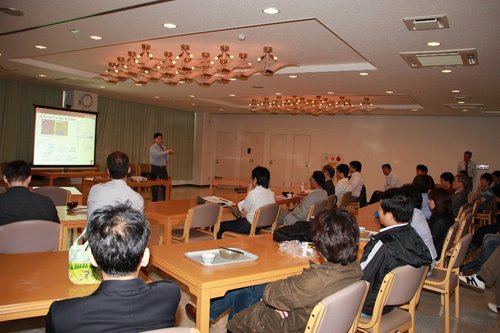 Toyohashi Tech EIIRIS (Electronics-Inspired Interdisciplinary Research Institute) organizes "Lunch Colloquium" on 4th Thursday of every month.
In "Lunch Colloquium," young researcher of EIIRIS presents his/her research field to students and faculties of Toyohashi Tech while having lunch together.
And the 15th Lunch Colloquium was held and Dr Tero, Tenure Track Assistant Professor gave presentation while the audience is having lunch.
Related information:

Cell repair mechanisms: Substrate-induced phase separation in ganglioside GM1-containing supported lipid bilayers
Spatiotemporal behavior of lipids in a cell membrane model on nanostructured substrates