Ms Motoe Takagi, a Japanese artist donated her art work in commemoration of 35th anniversary of Toyohashi Tech
20 Apr 2012
---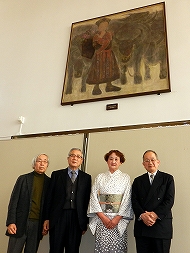 Ms Motoe Takagi, a Japanese artist and Toyohashi citizen, donated her art work "A Girl in Ha Gian" in commemoration of the 35th anniversary of Toyohashi University of Technology.

The art work was a prize winning painting at the Nitten Art Exhibition, and depicted a cowherd girl at the boarder of Vietnam and China.
Ms Takagi presented one of her master pieces to Toyohashi Tech on the occasion of 35th anniversary, as two of her sons had graduated from Toyohashi Tech.

On March 28, the unveiling ceremony was held, at which both Ms Takagi and President Sakaki unveiled the donated painting together.
Ms Takagi then gave an explanation of the painting before he was presented with a certificate of appreciation from President Sakaki.