Minister-counselor, Science & Technology, South African Embassy, Japan, visited Toyohashi Tech
18 Apr 2012
---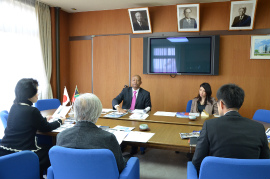 On March 27th, Mr. CeCil B. Masoka, Minister-counselor, Science & Technology, South African Embassy, Japan, visited Toyohashi University of Technology

As South Africa and Japan have been mutually promoting academic exchanges in the area of scientific technology, Mr. Masoka has shown interest in the fact that Toyohashi Tech is making efforts in international development, resulting in this visit.

In this visit, Mr. Masoka presented the situation of higher education in South Africa and its international research exchange with Japan. He exchanged ideas with our Vice President, Director Jinno, concerning the possibility of exchange of post-doctoral researchers and the acceptance of post graduate students, including the projects undertaken in such research exchanges.

Although it was short, the visit turned out to be a meaningful opportunity to progress future exchanges in research and education between South African institutes and Toyohashi University of Technology.